UPDATE:
Once you have uploaded your final manuscript to PDF eXpress and have clicked on
Approve for Collection
, no furhter action is required. Papers will be retrieved by the committee from PDF eXpress.
Prior to submitting your camera ready paper please carefully read the following checklist:
Study the reviews and incorporate the recommended changes into the camera-ready version of your paper. Moreover, make sure you fix typos and grammar mistakes.
Check that data in EasyChair matches exactly that in the paper (title, list of authors, abstract), as this information will go in the final proceedings and will be used for indexing.
The text in your PDF must be searchable, meaning that you should be able to copy-paste the text from any PDF viewer.
All your fonts must be embedded.
Your document must have no headers, no footers, and no page numbers.
The PDF must use the standard IEEE 2-column format with 10-point font. The mandatory IEEE template in Microsoft Word and LaTeX format can be found at the IEEE templates page .
To have an idea about how your paper should look like, take a look at this
sample PDF
. If your paper is similar to the sample in terms of fonts, margins, etc., your PDF should be fine. Once you complete the checklist, you need to validate your PDF using the IEEE PDF eXpress online tool. To do so, login into the
PDF eXpress Plus website
. If it is the first time you use this tool, you should:
Click on New Users - Click Here
Enter 37260XP for Conference ID, enter your email address, and choose a password
Enter the remaining required information to create the account
If you already have an account, instead, use the email and the password you registered with and
37260XP
as the Conference ID.
Once you are logged in, follow the instructions to upload your camera ready. PDF eXpress will check your paper and will inform you about the outcome via email. If the paper is Xplore compliant, you will need to go log in again into PDF eXpress and click on
Approve for Collection
. Otherwise, you will need to fix the PDF and re-upload it to PDF eXpress.
If you have any doubts regarding final formatting, please contact us well ahead of the camera-ready deadline. Due to the tight publication timeline, we cannot accommodate any paper for which we have not received a fully compliant camera ready version by the camera-ready deadline. No extensions can be granted. This deadline is
4 December 2015 23:59 PST .
Note also that to be published in the WONS 2016 conference proceedings,
at least one author of an accepted paper is required to register for the conference and must present the paper at the conference
(unless the TPC Chairs grant permission for a substitute presenter arranged in advance of the event and this person is qualified both to present and answer questions). Non-refundable registration fees must be paid prior to uploading the final IEEE formatted, publication-ready version of the paper. Each author can register an additional paper (max one) for 200 €.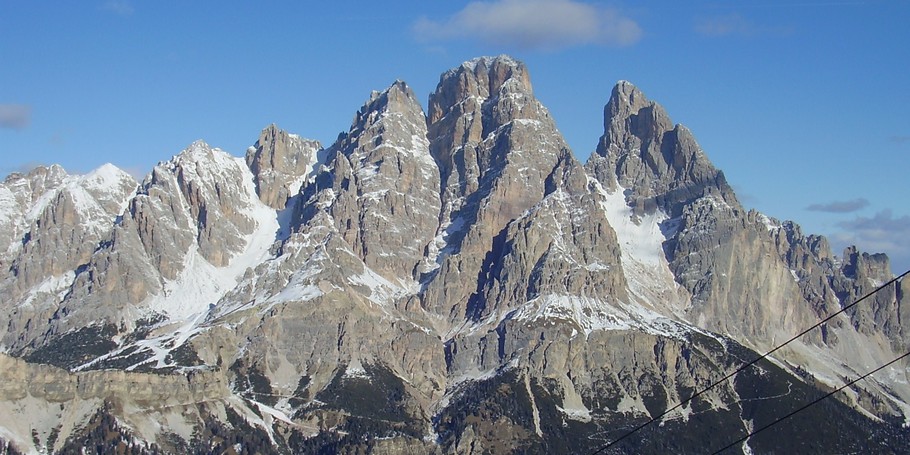 Mount Cristallo as seen from Faloria (Cortina d'Ampezzo, Italy)
By MaiDireLollo (Own work) [CC BY-SA 3.0 (http://creativecommons.org/licenses/by-sa/3.0)], via Wikimedia Commons